Eggs Are Their Inspiration
Egg Farmers of Ontario (EFO) is the marketing organization representing the over 500 egg farmers and pullet growers in Ontario. The amazing staff ensures the organization's policies and regulations are implemented and administrates programs such as advertising & promotion, agriculture awareness & education, poultry & egg research and development & quality control.
Since 2013, BP imaging has had the pleasure of contributing to the endless resources Egg Farmers of Ontario provide on their getcracking.ca website, social channels and beyond.
Their free resources include unique recipes, videos, educational resources, and important insights into the high-quality care their farmers take to deliver the eggs sold in our local grocery store.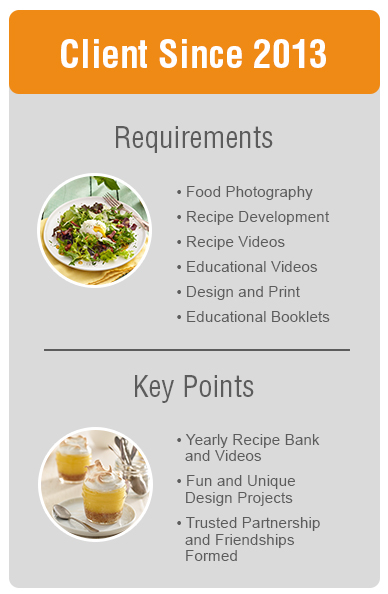 BP imaging has had the opportunity to produce educational and creative design pieces for several departments including Public Relations, Digital Communications, Foodservice and EFO Registered Dietitians. Every project brings a set of unique challenges that BP imaging happily welcomes.
A yearly highlight of working with EFO is the Recipe Bank project, which starts with a fun tasting day in studio and has now expanded to include 12 unique recipes and 6+ tasty egg recipe videos. EFO was one of the first clients requesting recipe videos and their trust, then and now, has allowed us to hone our skills and master the art of food videography.
The time and effort put into new recipe stills and videos by the clients, Photographers, Stylists and Designers truly shine through in the beautiful final images and polished videos that are produced every year!
After almost 10 years and many photography, video and design projects completed, the wonderful team at EFO still considers BP imaging a trusted partner and more importantly, trusted friends!
"Egg Farmers of Ontario has been working with BP Imaging for years!  They are our 'go to' for several projects across a variety of our programs.  They are great to work with, efficient and produce great work – from professional literature to high-quality photos and videos!  We are grateful to have BP Imaging as our partner!"
Public Affairs Manager
"Beautiful! I'm so happy with how the images turned out. Thanks for all the hard work on these— your team is AWESOME!!"
Food Service Specialist
Thank you to EFO from all your friends at BP imaging for the continued loyalty, EGG-citing projects and for the amazing memories formed over the years. Let's get cracking on building some more!
Please take the time to visit getcracking.ca and discover all the incredible recipes, amazing resources and important farmer information available from the amazing team at Egg Farmers of Ontario.