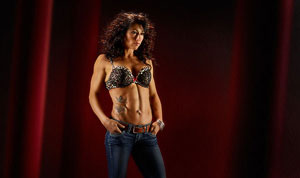 Fitness industry photography tends to focus on lean sculptured lines, the more the better. But when the slightest change in body position can obscure the appearance of muscle tone, it can be as tricky to produce as a series of stomach crunches.
While photographing the brawn and mighty has its challenges, a combination of outfits, airbrushing, and lighting will help produce a picture powerhouse.
As a general rule of thumb, a model's back should be arched slightly backwards, stretching out the stomach while emphasizing a trim figure. While posing, the subject should inhale deeply, and tense the muscles of the arms, chest, stomach, and legs. This makes them appear bulkier. It should be topped off with a smile, making it all look effortless.
While it's an important factor in any image genre, proper lighting is particularly crucial in capturing muscle mass, creating a visual impact. Proper use of lighting can pick up a great deal of definition. If lighting is too close, the ripple effect disappears.
Composition and props will help to keep images fresh and intriguing. Create depth of field with a dynamic background to emphasize your subject's physique. Allowing some distance between the lens and its subject will impart overall strength.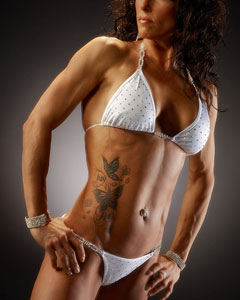 The Right Stuff
Consider theses the hard and fast rules to ensure a fitness model looks in tip top form:
We already know that in fitness pictures, muscles are everything. This is why body hair must be removed by shaving or trimming right before a shoot.
Oil is a necessary evil. It gives an added oomph to pecks and abs. To highlight and emphasize the curves and sinews of muscles in arms, torso, and legs, a thin application of baby oil or cooking oil should be applied before going in front of the lens. But easy does it, too much will look like an oil slick.
The subject must not eat right before a shoot. Food can make the stomach look bloated.
Before taking any pictures, a short workout should encourage blood circulation and increase muscle volume.
Our own photographer John Majorossy, had the joy of photographing a fitness model named Barb and experienced first hand these challenges. A bit of a change from the typical commercial photography we specialize in, Barb was a real pleasure to photograph. We took full advantage of her motorcycle hobby and created a dynamic set including the bike, smoke and creative backgrounds that emphasize her physique. Overall it was a challenging shoot but in the end we had great shots and an extremely happy client. Now that summer is in full swing we're hoping for the opportunity to create more unique shots like these.