Salmon Coulibiac –
recip
E-blast
Coulibiac is a Russian filled pie and a great way to use up leftover fish or rice. This delicious pie is easy to prepare and perfect for entertaining as it can be prepped up to 2 days ahead. Also try stuffing with quinoa, buckwheat, or wild rice.
Makes 4-6 servings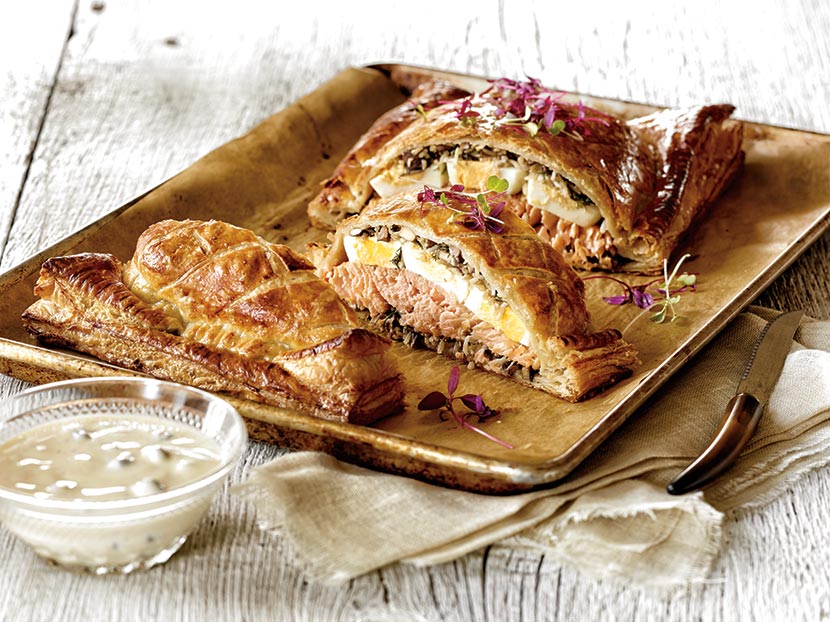 INGREDIENTS
---
454 grams puff pastry
200 grams cremini mushrooms, finely chopped
1 tbsp butter
2-1/2 cups cooked rice, cooled
1/4 cup chopped dill
1 tsp lemon zest
1/4 tsp red pepper flakes
1/4 tsp each salt and pepper
1 lb cooked salmon filet
2 eggs, hard boiled and sliced
1 egg yolk, whisked
Caper sauce
1/2 cup plain yogurt
2 tbsp capers
2 tbsp lemon juice
2 tbsp dijon
1/4 tsp cayenne pepper
PREPARE
---
1. Roll puff pastry into 2 10" x 10" sheets. Place one sheet onto a parchment lined baking sheet.
2. Sauté mushrooms with butter until cooked and liquid has reduced. Transfer to a bowl and combine with rice, dill, zest, pepper flakes, salt and pepper.
3. Spoon half of mixture onto a sheet of pastry, spreading evenly leaving a 1-1/2 inch edge around pastry. Place salmon filet and sliced egg on top.
4. Spread remaining rice mixture over layers. Brush edge of pastry with egg yolk.
5. Drape second pastry sheet over filling, working pastry down around edge and pressing firmly to bottom pastry sheet.
6. Press a fork around the edges to stick together. Lightly score top of pastry diagonally with a knife in a crosshatch pattern. Brush with remaining egg yolk.
7. Bake in centre rack of 400°F oven for 30-40 minutes until golden brown and puffed. For caper sauce, stir together all ingredients in a bowl and serve with Coulibiac.
Click here to subscribe to our monthly E-blast list!