Strawberry Rhubarb Float –
recip
E-blast
The sweet and tangy strawberry rhubarb syrup melds perfectly with luscious ice cream.
Makes 8 to 10 floats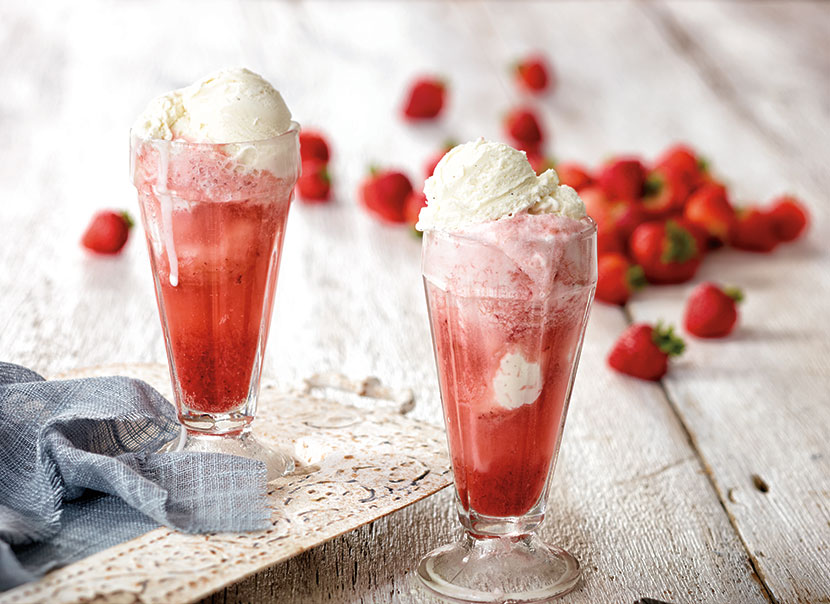 INGREDIENTS
---
2 cups chopped strawberries
2 cups chopped rhubarb
2 cups sugar
2 cups water
2 sprigs rosemary
1-2 scoops vanilla ice cream
sparkling water
PREPARE
---
1. In a medium saucepan, combine strawberries, rhubarb, sugar, water and rosemary.
2. Bring to a boil, stirring to dissolve sugar.
3. Reduce heat to a simmer and cook for 20-30 minutes until rhubarb and strawberries have broken down and
mixture has thickened.
4. Strain through a sieve and chill before serving.
5. To serve, spoon 1/4 cup strawberry rhubarb mixture in a tall glass, fill halfway with sparkling water stirring to combine. Top with 1-2 scoops ice cream.
Click here to subscribe to our monthly E-blast list!