Sweet and Spicy Shrimp with Green Beans –
recip
E-blast
A quick and flavourful sweet and sour shrimp stir fry with just the right spicy kick. Best enjoyed with Jasmine scented white or brown rice.
Makes 4 servings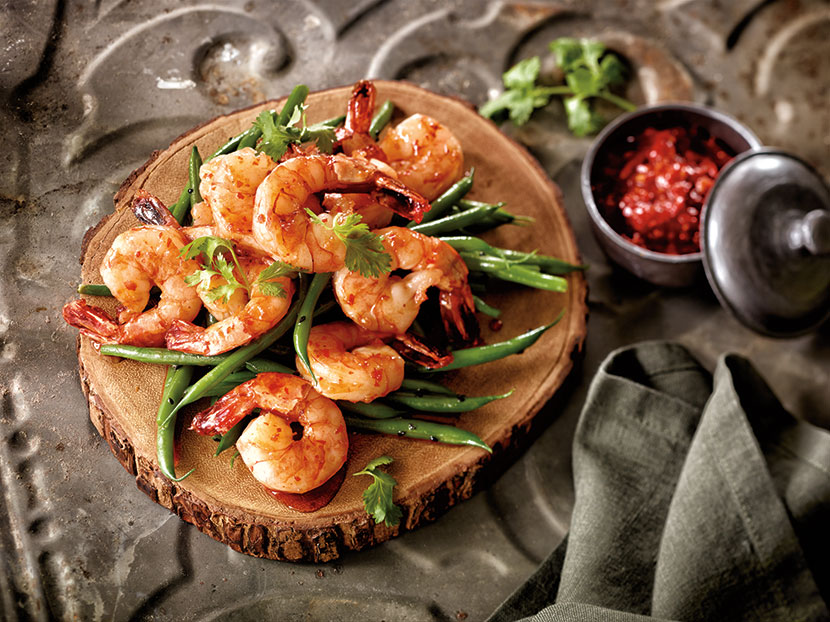 INGREDIENTS
---
1 tbsp vegetable oil
1 lb large shrimp, peeled and patted dry
1/2 cup sugar
1/3 cup apple cider vinegar
2 tbsp chili garlic sauce
2 tbsp dry sherry
1 tbsp soy sauce
1 lb green beans
1 tsp sesame oil
1 tbsp black sesame seeds
Cilantro for garnish (optional)
PREPARE
---
1. In a large non-stick skillet or wok, heat 1 tbsp of vegetable oil over high heat until oil just begins to smoke.
2. Sauté shrimp to a medium, when shrimp turn pink but not opaque all the way through. Remove onto a plate.
3. Combine sugar, vinegar, chilli garlic sauce, sherry, and soy sauce in skillet; simmer over medium high heat until sugar has dissolved. Reduce to a thick syrup (about 3-5 minutes).
4. Meanwhile, blanch green beans in a large pot of boiling salted water until tender crisp. Strain into a large bowl and toss with sesame oil and seeds.
5. Stir in shrimp to finish cooking in sauce and serve with green beans. Garnish with cilantro if desired.
Click here to subscribe to our monthly E-blast list!