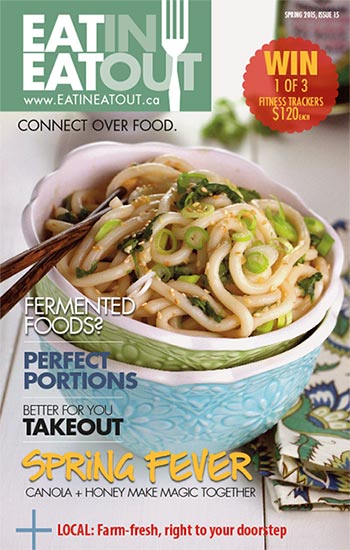 Food Photography
Our recipe food photographer, John Lynch, did a great job shooting the recipe photography for Merkato Communications that was published on pages 22-27 of the Spring 2015 issue of Eat In Eat Out magazine (food blogger and digital magazine). An interactive online magazine is available on their website that shows you a detailed version of each dish by clicking the "See The Recipe!" buttons.

Recipes
The recipes were developed by The Canadian Health Food Association to promote the importance of digestive health. Outlining the key factors to improve digestion including the ingestion of probiotics that are found in fermented foods which help us absorb nutrients. A number of health issues stem from poor nutrient absorption which is why it is so important to eat nutrient dense natural foods and be aware of your digestive health…as they say in the article "You are what you eat."
The three recipes outlined in the issue include:
Tempeh Satay Rolls
Key Lime Kefir Pudding
Kimchi and Zucchini Pad Thai
The recipes utilize natural ingredients including kale, kefir, avocado, almonds, apple cider vinegar and kimchi just to name a few. If you are looking for the full list of ingredients and detailed directions for these recipes they can be found in the Spring 2015 issue of Eat In Eat Out digital magazine on their website.
Check out our food photography below!