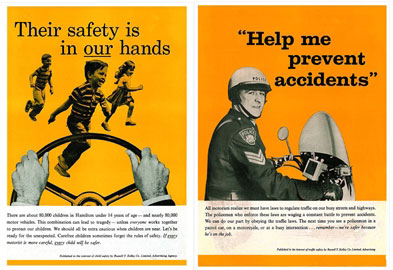 The Traffic Safety and Police Services Series was photographed by Tom Bochsler for Russell T. Kelley in 1960. The ads and booklets were used to promote cycling safety, community/police awareness, school crossings, school bus safety, personal safety, the introduction of the slow moving vehicle sign and more.
Many of the locations and amateur models were chosen by Tom Bochsler. He even borrowed a school bus from Hillfield College which was driven to Burlington and filled with his/neighbourhood children and a friend as the bus driver. For the steering wheel advertisement Tom went to City Chevrolet and had them remove a steering wheel for his shot.
When Tom exhibited 50 years of his photography at the Art Gallery of Hamilton in 2006, he asked retired Sgt. Ed. Selinski (the Hamilton City policeman on the motorcycle) to cut the opening ribbon. Bochsler Photo Imaging continues to supply photographic services to JAN Kelley.
Below are two images from Tom's photographic biography The Art of Industry. On the left is a photograph taken for The Traffic Safety and Police Services Series in 1960 for RTK, Sgt. Ed. Selinski was the key subject in many of the photos. On the right is a photograph taken in 1968 for The Traffic Safety and Police Services Series, Tom gathered some kids in his neighbourhood outside a local school in Burlington to pose for a simulated school safety scene.