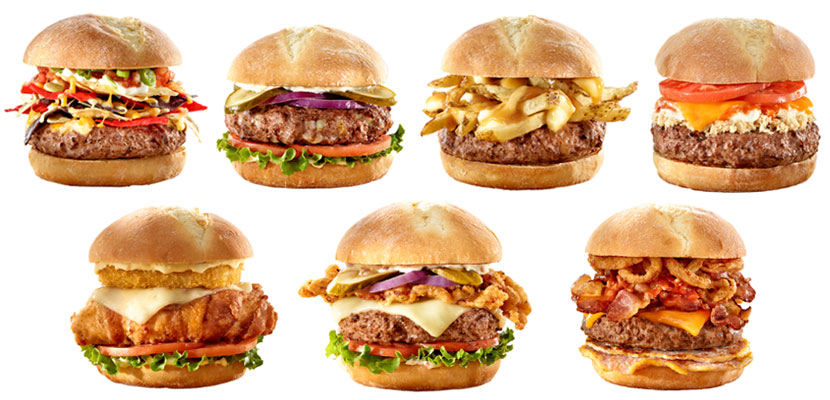 Back in November, BP imaging's photographer John Lynch used his skills in food photography to shoot for The WORKS Gourmet Burger Bistro. You may remember some of the menu photography BP imaging shot for The WORKS back in 2012 "The More Burgers The Better." Since that shoot (close to 80 different burgers) the menu has expanded and even includes a promotional bacon menu! The burger enthusiasts at The WORKS continue to create unique hamburgers and combinations most people would never imagine.
The WORKS
A gourmet burger bistro with locations mainly in Southern/Eastern Ontario but range from London, Ontario to St. John's, Newfoundland. When taking a glance at the menu it is obvious that they specialize in burgers and are out to make the "World's Best Burger" creating fresh hand pressed patties daily. The WORKS offers 7 different types of burgers to tease everyone's taste palette including Canadian beef, cheese stuffed beef, chicken breast, ground turkey, gourmet veggie, portobello mushroom cap and domestic elk. The menu also includes chicken sandwiches & wraps, a variety of appetizers (including Tower-O-Rings and crispy dills), salads, poutine, and shakes/floats.

Food Photography
There were two parts to this particular photo shoot. The first part included images for the recent bacon promotional menu "Believe In Baconism" which includes 3 different burgers, an appetizer and a shake (all items have bacon as a main ingredient). The second part of the shoot included a variety of new gourmet burgers to be added to the menu (as if they didn't have enough) with ingredients ranging from nachos and french fries to horseradish and hot sauce.
The Gourmet Burgers
The hamburger and cheeseburger photography included: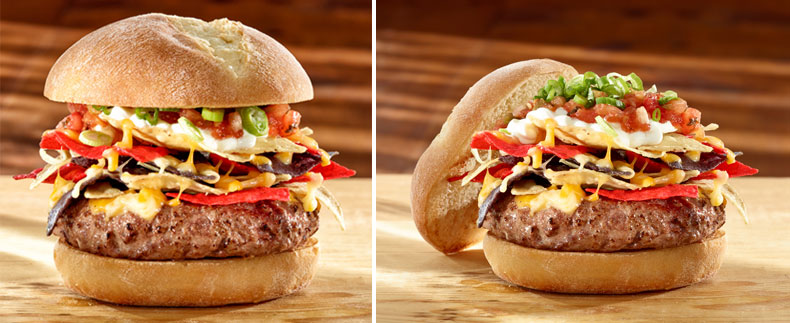 The Nacho Libre – A gourmet burger topped with crunchy tortillas, 5 shredded cheeses, sour cream, salsa and green onions.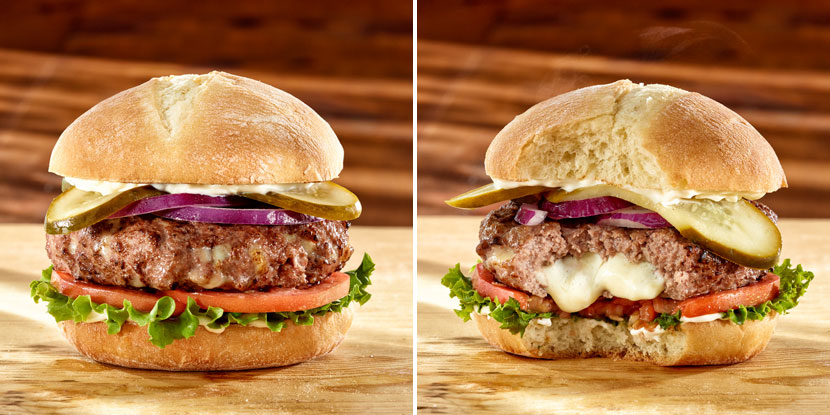 The Juicy Lucy – A cheese stuffed fresh beef patty topped with lettuce, tomato, pickles, red onions and mayo.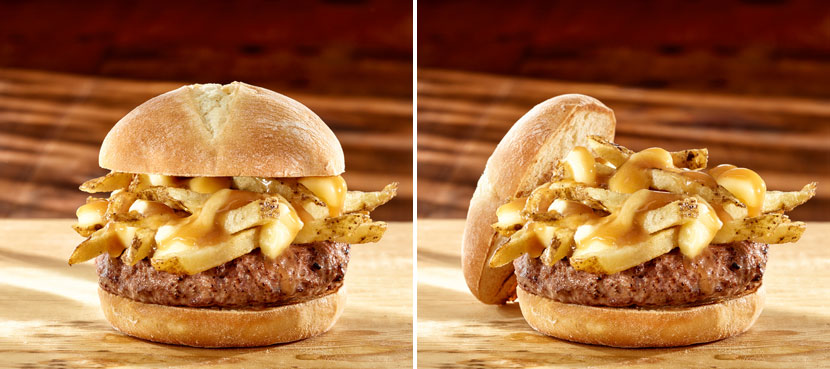 The Full Mountie – A hamburger topped with french fries, gravy and cheese curds (for all the poutine lovers).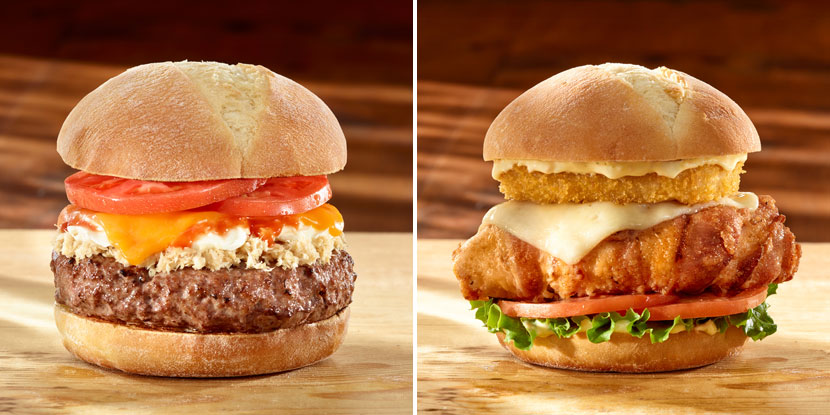 The Pony Express (left) – A hot hamburger topped horseradish, cream cheese, Frank's Red Hot sauce, cheddar cheese and tomato.
Time For The Bacon
The Bacon Burgers
The Chicks Dig Bacon (shown above on right) – A chicken breast wrapped with four strips of smoked bacon (dusted in cajun flour and deep fried), topped with lettuce, tomatoes, Havarti cheese, and an onion ring.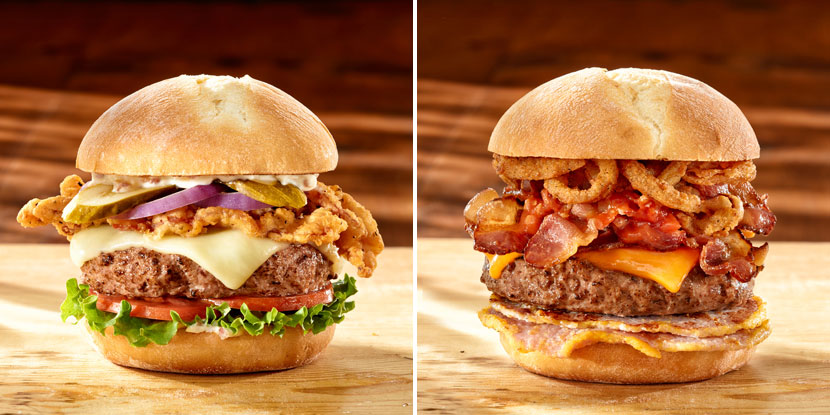 The Bacon Me Crazy Burg (left) – A gourmet burger topped with lettuce, tomatoes, jack cheese, red onion, dill pickles and two strips of deep-fried bacon with creamy bacon mayo.
The Gettin' Piggy With It (right) – A burger patty laid on top of Canadian back bacon (peameal bacon), topped with cheddar cheese, smoked bacon, bacon ketchup and onion strings.
The Bacon Appetizers & Desserts
The appetizer & dessert photography included: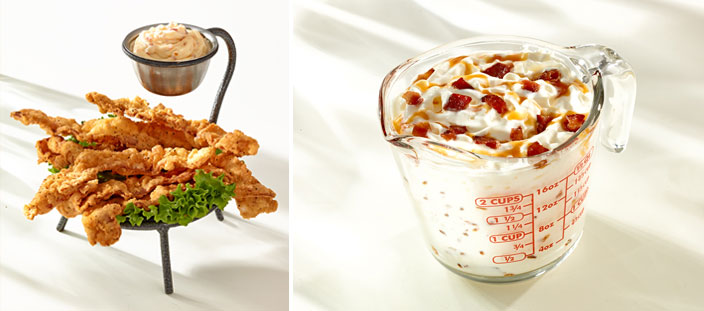 WWBD (What Would Bacon Do?) (left) – Bacon covered in seasoned flour and deep fried with a side of creamy bacon mayo.
Salted Caramel Shake 'N Bacon (right) – Vanilla ice cream blended with salted caramel syrup and bacon topped with whipped cream, caramel syrup and bacon bits.
Be sure to visit a local restaurant near you to find your favourite gourmet burger. For more of BP imaging's Food Photography including appetizers, main courses, desserts and beverages visit our Food Photography Portfolio.