Roasted Grape and Salami Crisps –
recip
E-blast
Oven roasted grapes are bursting with juicy sweetness and are a perfect compliment to the salty and spicy salami crisps. Make everything one day ahead for easy entertaining. Keep salami crisps at room temperature layered with paper towel in an airtight container and warm refrigerated grapes before serving.
Makes 20 crisps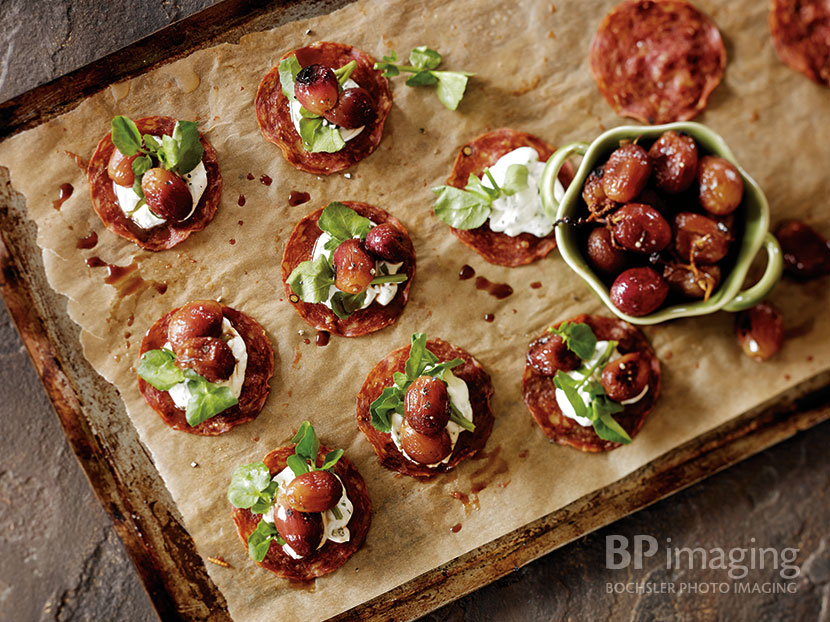 INGREDIENTS
---
Salad
40 red grapes
20 slices spicy or regular genoa salami
2 cups watercress, tender stems and leaves
1/3 cup sour cream
2 tbsp olive oil
1 tbsp each finely chopped chives and basil
1/4 tsp salt and pepper
PREPARE
---
1. Toss grapes with oil, salt and pepper. Arrange on a rimmed baking sheet and roast at 450 F for 20 minutes until softened. Set aside to cool.
2. Reduce oven temperature to 325 F. Arrange salami slices on 2 baking sheets in a single layer. Place sheets on top third and bottom third racks and bake for about 15 minutes until light golden brown, rotating sheets once to brown evenly. Salami will crisp further while cooling.
3. To serve, combine sour cream with chives and basil. Spoon a small dollop in center of each crisp. Top each with watercress, 2 roasted grapes and any juices. Finish with a sprinkling of cracked black pepper.
Click here to subscribe to our monthly E-blast list!