French Onion Grilled Cheese Sandwich –
recip
E-blast
Savour each indulgent mouthful of this delicious gooey centre and crunchy buttery crust. For an extra rich take, serve with beef gravy for dipping.
Makes 2 sandwiches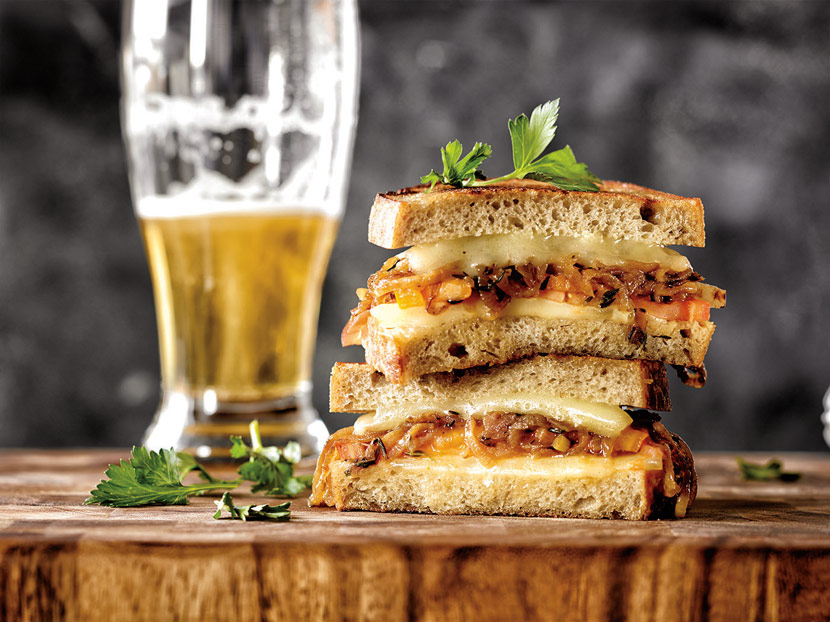 INGREDIENTS
---
1 large Spanish onion, thinly sliced
1 tbsp chopped thyme
1 tsp oil
1 pinch salt
4 slices rustic fresh bread
3 tsp butter
4 slices Emmental cheese
4 slices tomato
PREPARE
---
1. In a heavy bottomed saucepan, caramelize onions with thyme, oil and salt over medium heat until golden brown and reduced.
2. Butter one side of each slice of bread with butter.
3. Build sandwich by laying 1 slice cheese on unbuttered side of bread, 2 slices tomato and 1/2 of caramelized onions.
4. Top with another slice of cheese and unbuttered side of bread.
5. Repeat steps for other sandwich.
6. Grill sandwiches over medium low heat in a large nonstick skillet on each side until golden brown and cheese has melted.
Click here to subscribe to our monthly E-blast list!