Fall Salad –
recip
E-blast
A crisp and colourful salad with just the right balance of flavours and textures tossed in an earthy zingy vinaigrette. Pairs beautifully with a perfectly seared steak and your favourite red.
Makes 2 servings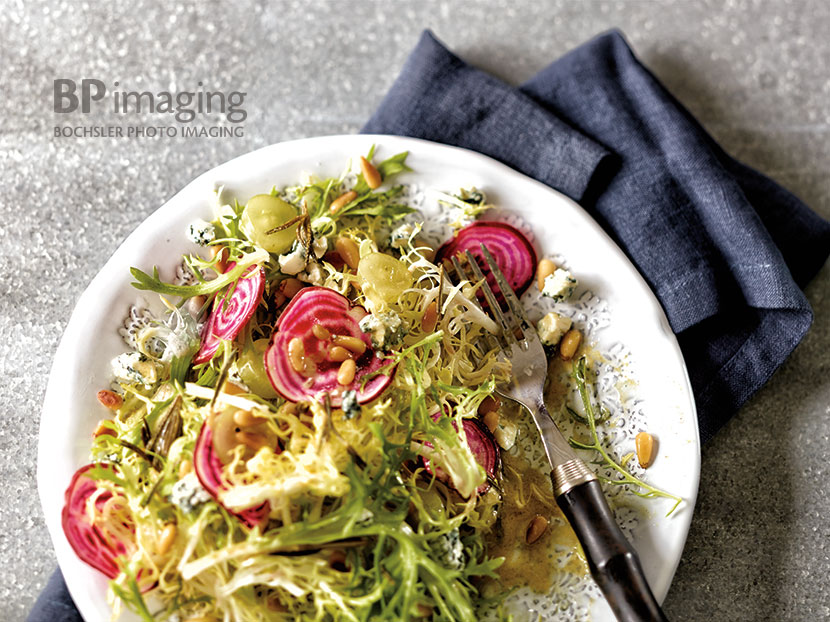 INGREDIENTS
---
Salad
1 head frisée lettuce, torn into bit sized pieces
1 small candy cane or other beet, thinly sliced crosswise
2/3 cup seedless green grapes, sliced
1/3 cup toasted pine nuts
1/4 cup crumbled blue cheese
Rosemary Vinaigrette
3 tbsp olive oil
1 tbsp fresh rosemary, coarsely chopped
2 tbsp apple cider vinegar
1 tbsp dijon
1/4 tsp black pepper
PREPARE
---
1. In a large bowl, combine frisée, beets, grapes, pine nuts and cheese
2. Heat olive oil over medium high, toss in rosemary and fry until crisp, golden brown and fragrant
3. Whisk in vinegar, dijon and black pepper
4. Toss vinaigrette with salad just before serving
Click here to subscribe to our monthly E-blast list!