"If you could eat only one burger before you die…"
Seth Myers, NBC Late Night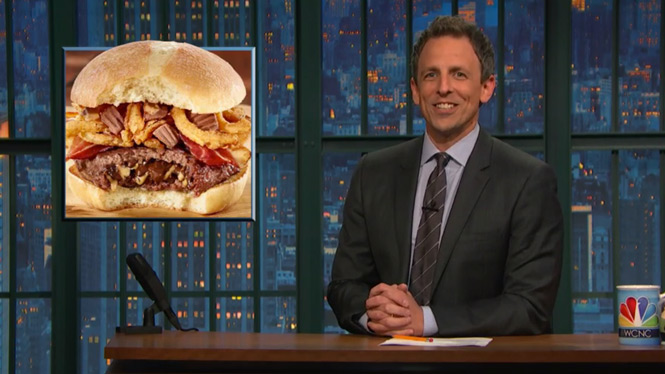 The Hamburger
The hamburger has been part of the North American menu since the early 1900s. There are a few different stories that describe the original recipe, but they each describe the original burger as ground beef with two slices of bread or toast. I am sure they were delicious, but from what I read, there was no cheese involved, let alone ketchup, pickles, bacon or other tasty condiments.
Needless to say there has been a lot of changes to the hamburger profile since the 1900s. The hamburger has become more than just a single menu item. Today some menus feature a lot more than just one entry for the classic sandwich. The hamburger has gone from humdrum to gourmet.
Food Photography
At BP imaging we have a special expertise when it comes to food photography. Senior Photographer, John Lynch shoots all kinds of food. Take a look at our portfolio of food photography to get a sense of the variety. You'll find everything from soup to nuts. Without a doubt though, there is not a single item that John has shot more than the delicious hamburger.
The WORKS – Gourmet Burger Bistro
Back in 2012 we were invited to discuss photography requirements for a growing restaurant franchise known as The Works Gourmet Burger Bistro (Works – for short). What we didn't know at the time is just how many different burgers Works had on their menu (70) and that we would soon have the opportunity to shoot every one of them. As it turned out, we shot the 70 burgers in the first round over 15 days. Over those 15 days, we photographed 4 or 5 burgers a day with names like: Nacho Libre, Kamikaze, Ring of Fire and Malibu Meltdown.
If you haven't been initiated into the world of Works Burgers, you are probably reading this wondering how there could be 70 burgers and how they could look different enough to require a photo of each. It really isn't something mundane like one burger has pickles and another has extra pickles. Here is a small sample of some of the more interesting condiments on offer: brie, pineapple, smoked brisket, Kraft Dinner, eggplant, peanut butter, banana and egg.
Not only does Works have some fantastic topping combinations on offer, but they also offer patties beyond the usual ground beef, including: chicken, turkey, mushroom and elk.
Take a look at their hamburger menu to see some pretty colourful burgers.
Reese
Since the original 70 burgers we shot in 2012, we have continually shot for Works Limited time offers (LTO). In the summer of 2014 we photographed our first three stuffed burgers for a Works LTO. One patty was stuffed with cheese, another with peppers and a third with pulled pork. We shot them each with a "bite" missing to show the stuffing.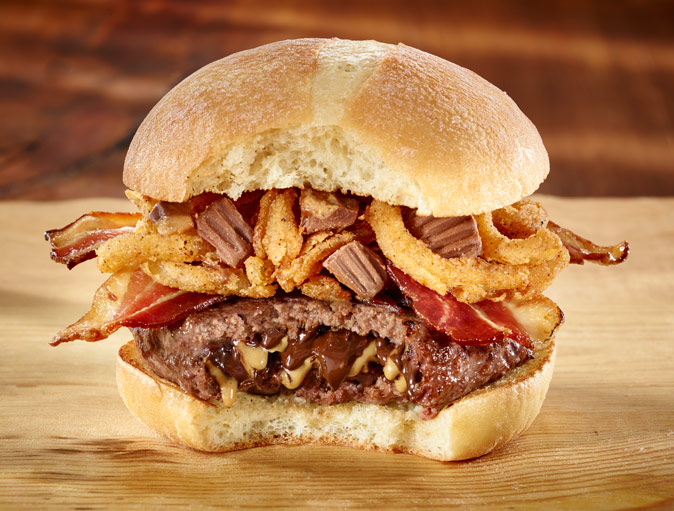 Little did we know at the time, but the geniuses at Works weren't done with stuffing burger patties. In 2015, as part of Works "Get Stuff'd" LTO someone had the brilliant idea of stuffing a burger patty with Reese's Peanut Butter Cup (PBC) candy. In August we were given the task to not only shoot this new burger, but our food stylist, Tanya Eng, was given the challenging task of building the burger, which also feature bacon, fried onion straws and topping of mini Reese's PBC. Of course, no one would know that a burger is stuffed with sweet and savoury ooey, gooey goodness unless you gave a window through which to see. Again, a 'bite' was required.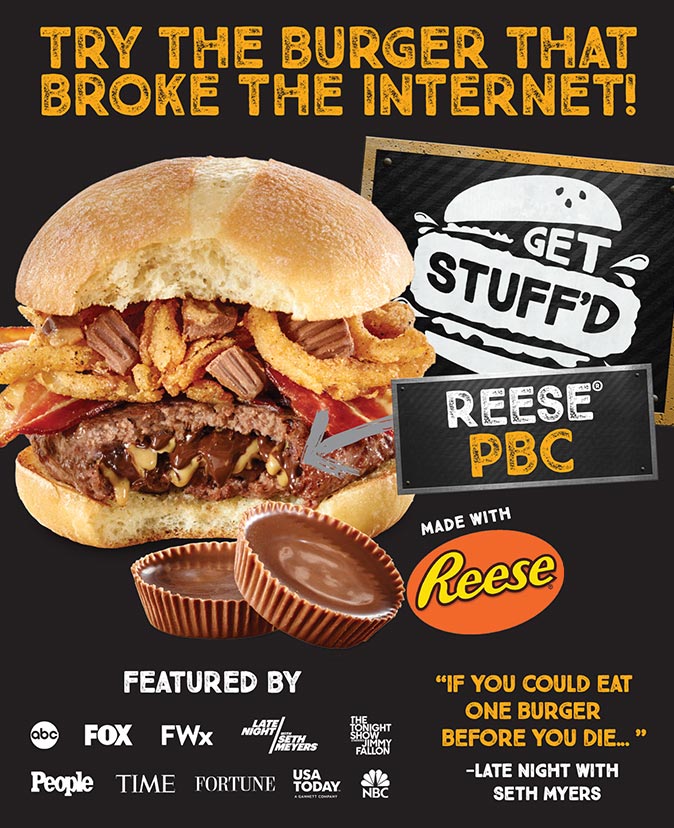 The initial discussion in the studio was whether the Reese PBC burger would sell or garner any attention. It did both. Check out some of the buzz the burger garnered.
Varying degrees of attention came from media south of the border, including Seth Myers on the NBC Late Night show, The Tonight Show with Jimmy Fallon, ABC, FOX, People, Time and Fortune magazines. The big burger captured the imagination of the public and media in a very big way.
It is pretty common for us to see one of our shots as we walk through a grocery store or look up at a billboard driving to work, but seeing our photo on a television show that reaches millions everyday is not that common. It was pretty cool. Let's hope our friends at The Works Gourmet Burger Bistro have something else fun for us to shoot in the coming months.