"The excitement is infectious"
"You could catch the winning fever"
"Do you feel the itch to scratch"
"You could scare up $35,000 from THE WALKING DEAD INSTANT game"
"The excitement is spreading"
These are just a few of the taglines that have accompanied the social media posts for the NEW Walking Dead lottery tickets with promotion photographed by yours truly!
The process leading to the final product was a long and winding road! Brooks Marketing came to us with an idea for their client the Ontario Lottery and Gaming Corporation. They wanted to produce a series of photographs that depicted the stages of a zombie infection. The first image would show a normal human hand and each image following that would look increasingly infected, eventually ending with a full-blown zombie hand!
Before the photo shoot took place, we took the hand model to The Butcher Shop special effects studio in Hamilton to create a hand mould in order to create the final stage of infection. From there, they created a prosthetic zombie hand to be used in the final stages of the shoot.
On the day of the photo shoot, more than 70 images were taken to create the final product. For each shot our hand model would place her hand on the set and slightly change her positions to make it appear as if she were scratching the lottery ticket. The special effects artist would apply subtle layers of make up to the hand after each photograph to achieve the progression of a zombie infection! Eventually the models hand was replaced with the prosthetic to accommodate the missing fingers and deep wounds. Enjoy the animation and preparation images below!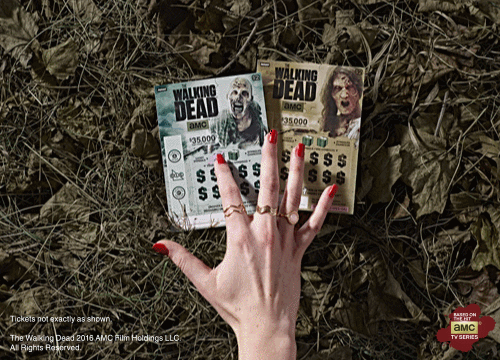 Preparing the Prosthetic Arm for the Photo Shoot