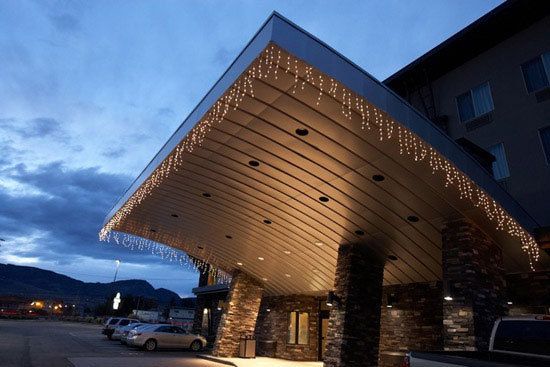 Two weeks ago I boarded a plane for British Columbia! Lucky me got to go on a 2 week road trip all around BC to shoot hotel photography for Choice Hotels! How cool? I always enjoy getting out somewhere else and this was a fantastic opportunity.
I landed in Kelowna and picked up the rental car, which let me tell you, it is a good thing it had 4 wheel drive! More on that in a second though. Now I was in for a bit of a drive but off I went! I traveled from Kelowna to Kamloops and then north to a small town called Quesnel, and that is where the fun began.I woke up to 20cm of snow and I had to drive 8 hours to Vancouver in it! That is where the 4 wheel drive helped, and after passing 1 truck and 5 cars in the ditch (enough to make you a bit nervous), getting 2 chips in my windshield from on coming trucks (joy…) I managed to get onto some dryer roads. The drive threw the mountains however, was breathtaking! I managed to get to Vancouver in one piece, only to wake up in the morning to drive to Victoria."
From there I was north bound to my last stop in Campbell River. I headed out that evening for dinner when out on the front lawn of the Hotel was 2 deer! I think I was more startled then they, and like any good photographer, I didn't have my camera!!
The next day was the final leg of the trip. I had to go back through the mountains to Kelowna, and wow, another incredible drive! If you have not gone that way and taken the drive, you should!
After it was all said and done I had shot 11 different hotels in 10 different cities! It was a busy trip, and a very successful one. Have a look and let me know what you think.