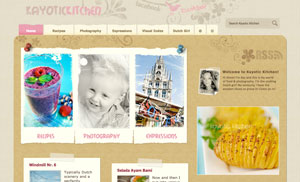 Food photography is a challenging genre, but there are some awesome people all over the world willing to share their tips and tricks of the trade. We read a few blogs in particular for inspiration on recipe ideas, propping styles and lighting design. With great blogs like this you can see the whole process from cooking the recipe to the finished plate.
Food photography isn't always easy, so it's great to have resources like foodie blogs to draw inspiration from. Blogs from the other side of the world are also an excellent way to learn about new recipes and food types from a variety of cultures.
One blog we have recently started keeping an eye on is Kayotic Kitchen, from the Netherlands. This photography is bright and colourful, uses lots of natural light and the food looks like you could eat it right off your computer screen! Kayotic Kitchen's recipes span the globe, inspired by many cultures and foods including Chinese, Moroccan, and even good old American mac and cheese. Kayotic Kitchen is not shy about using spices not usually found on the beaten path, or beaten spice rack, as the case may be, and the recipes reflect this unique sense of flavour.
Another awesome food blog we love to use as inspiration is What Katie Ate, out of Australia. The photography style is quite different with a rustic, natural feel using lots of dark-stained wood and vintage plates and silverware. Recipes focus on fresh, free-range and wholesome foods. This blog is the whole package. She creates the recipes, cooks the food, finds the creative props, and shoots the photos herself. It's a good thing she's all the way in Australia, or we'd be concerned about the competition.
Food photography is all about finding your style. But the best way to create a unique style is to learn from others! If you know of any other great food and photography blogs, be sure to let us know!