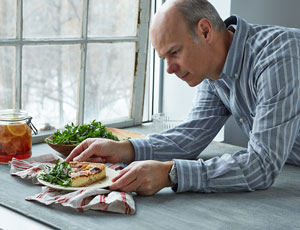 1.How long have you worked for BP Imaging?
I've worked for BP imaging for 26 years but the business has been around since 1956. I became a partner in the business about 10 years ago.
2.What made you want to become a photographer?
Back in high school I took lots of pictures for the year book and it just continued to grow from there. I was a  kid and liked to take pictures of girls, thought I'd be a fashion photographer but that didn't happen.
3.What was your first camera?
My first camera was an Old AGFA camera from my Dad, then I bought my first camera an Olympus OM 1 and then moved over to the Canon.
4. What's the biggest challenge you've had to face in the photographic industry?
I would say the biggest challenges have been in the last 10 years with the digital revolution. Trying to stay current and up-to-date on equipment and techniques in an ever-changing technology.
5. What is your favourite subject to photograph?
I really love shooting food these days. I enjoy eating, which helps, but I also enjoy the whole food prep process.
6. What's the most interesting shoot you've done?
Well it's really hard to narrow it down to one interesting shoot. My passion has been in the variety I get to shoot. The most rewarding is to take a product or situation and make it look spectacular. I once did a beauty shot of toilet partitions for the front cover of a brochure.
7.If you could shoot anything, anywhere, where would it be?
I've never done a tropical shoot for a Hotel or fashion model shoot. I think that would be interesting and challenging.
8. What's one key tip you've learned throughout the years as a photographer?
As important as it is to produce great looking photographs, it's equally important to have a likeable personality and be able to work with people. We're dealing with people every day and it's the relationships that bring back consistent business and referrals.
9. What's the one piece of equipment you can't do without on a shoot?
This is always an interesting question because everything I use seems very important but I'd have to say without a camera of sorts I couldn't capture the shot. Besides that, for food photography, it would be my glass blocks and mirrors.
10. If you could buy any piece of equipment, regardless of cost, what would it be?
Wish list for camera toys is always long!! Isn't it the more toys the better for a guy? But if I had to narrow it down it would be a New Phase One Camera system with all the lenses. It's an awesome system.
11. Have you had any mishaps on a shoot? How did you handle it?
Like any professional you have to make all your mishaps look like planned outcomes. That is if you can. One that will stick with me that goes back to the days of film was shooting a helicopter landing of a building in -30 degree temps. I pre loaded the film but put on the wrong film back and had no film in the camera. Opps!! That's when my heart skipped a beat. I've forgot different pieces of equipment on location but have always made do with what I've got. That's the nature of the business, being able to work with what you've got and what's been thrown at you. You can either sink or swim.
12. What photographer inspire you?
Back in the early days my inspiration was always Ansel Adams. I loved his black and white landscapes and how he achieved his results. Today I'd say it's the many photographers that are my peers. I look on the web and in magazines at other photographers work and get inspiration from that.
13. What advice would you give to aspiring photographers?
Pick another career where you might have some job security and a pension!! Not really, I love photography. I would tell myself to spend some more time shooting personal work to build up a collection over the years.
14. What do you think is next in the photographic industry? How will you adapt?
As for photography in the future, I'm not sure. I know 3D animation is getting better and better. We have already lost some work in that direction. Less still images and more video, there will be less and less printed images and more electronic which will give you that capability. But I think the youth of today should continue to learn still photography as well as video. The matrix affect where everything is still and you are able to move around the image is also pretty cool.