Grilled Black Forest Pizza –
recip
E-blast
A delicious modern take on the traditional black forest cake with little effort and a fraction of the time.
Makes 6-8 servings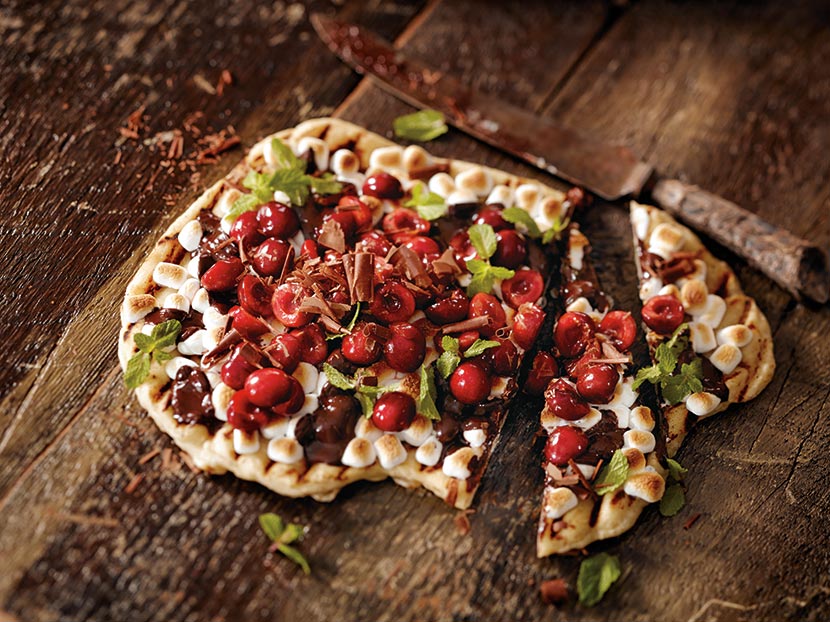 INGREDIENTS
---
2 cups cherries, pitted and halved
2 tbsp kirsch
4 tbsp sugar
1 tbsp melted butter
1 – 700g pre-made pizza dough
1 – 100g bar good quality chocolate, chopped
1/2 cup mini marshmallows
1/4 cup chocolate shavings
Mint for garnish
PREPARE
---
1. Preheat grill to 500° F.
2. In a bowl, combine cherries, kirsch and 2 tbsp sugar, set aside.
3. Roll pizza dough to 1/4 inch thickness, brush one side with melted butter and sprinkle with 1 tbsp sugar.
4. Reduce heat on one side of grill to low and place pizza dough buttered side down onto grill. Brush top with remaining butter and sprinkle sugar.
5. Grill for 5-7 minutes until golden brown and crisp.
6. Flip over and top with chocolate and marshmallows.
7. Close lid to bake until bottom is crisp and marshmallows are toasted.
8. Transfer to a cutting board.
9. Top with cherries, chocolate shavings and mint. Slice into wedges and serve immediately.
Click here to subscribe to our monthly E-blast list!