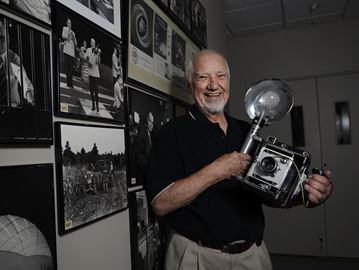 A great article from the Burlington Post for Tom Bochsler's large photographic donation "Burlington photographer donates 500,000 negatives to Hamilton Public Library" and a brief overview of his career as a professional photographer, have a read below:
Tom Bochsler's 50-year career in photography has taken him all across Canada and to the far corners of the world.
His collections of photographs spill into the hundreds of thousands, ranging from film negatives to digital files that make up his lengthily career in newspaper [photography], commercial [photography] and industrial photography.
Recently, the 82-year-old Burlington resident chose to donate 500,000 images from his collection to the Hamilton Public Library.
"It's just great….It was the best thing to happen," said Bochsler.
"My work started off there (in Hamilton) in '56. But it evolved from a social, newspaper thing to a specialty of commercial and industrial."
It's one of the largest donated image collections in Canada and the library couldn't be more thrilled to get its hands on it.
"It's a wonderful donation and it's a significant donation with natural importance," said Karen Milligan-Thurston, manager of local history & archives at the Hamilton Public Library, referring to Bochsler's designation of Outstanding Significance and National Importance by the Heritage-Cultural Property Export Review Board.
"Having these half-a-million images adds to the collection. They are unique items that aren't available anywhere else and it's great that he was able to capture Hamilton's history and all of Canada in photographs."
Images of nuclear reactors, salt mines and steel factories from across Canada will now be in the hands of the library. According to Milligan-Thurston, the photos will stay in a climate-controlled archival vault, or archival enclosure to ensure the images don't decay over the years.
Bochsler says he donated the photos because he didn't want them to succumb to the alternative — ending up in the trash.
Bochsler lengthy career started when he took a job in 1950 working with his older bother Joe, who had a photography business of his own. Back then it was flash bulbs, film packs, 10-lb cameras and black and white photography. Bochsler spent time in darkrooms developing film, that's where he learned the basics of photography, he says.
He also dabbled in newspaper photography for the Globe and Mail, The Hamilton Spectator and Hamilton News, to name a few. But it was industrial photography that captured his full attention. It was the type of photography he likes to call dirty, dark and dangerous.
"That's really what I enjoy doing because it took me to places I could apply my skills," said Bochsler.
"The skills I learned from newspaper work and dark rooms I applied to industrial photography."
Since he started down the industrial path he never looked back. Bochsler has photographed every single nuclear power plant in Canada and published a book The Art of Industry, which features 272 of his favourite photographs from 1950-2003.
He says he always tried to show his audience, in some way, how the industrial item was being used and where. Its purpose should be shown to the audience. He added that although he's had a full career in industrial photography it's a disappearing niche.
"Very few companies have you photograph what they make or do anymore. The market place has changed."
He's now retired from photography and has his own business, Bochsler Photo Imaging that he started in 1958. His oldest son, John, is currently the president of company and Bochsler pops in a few times a week to the company's studio on Sheldon Court in Burlington. It specializes in food [photography], product [photography], lifestyle [photography], portrait [photography], architectural [photography], automotive [photography], industrial  [photography] and aerial photography.
The library already has plans for some of his images. It wants offer the public a sneak peek into his collection through a special presentation that will display some of Bochsler's work during one of Hamilton's Supercrawls in the fall.
Overall Bochsler says he's happy that his pictures will be in the capable hands of the Hamilton library because it has "the dedicated space and people."
"I think it's really commendable, as far as I'm concerned, that there's a source out there that feels it's worthwhile."