Grilled Prosciutto Asparagus with Orange Aioli –
recip
E-blast
A simple and versatile appetizer that is perfect for a casual al fresco get together or cocktail party.
Makes 16 pieces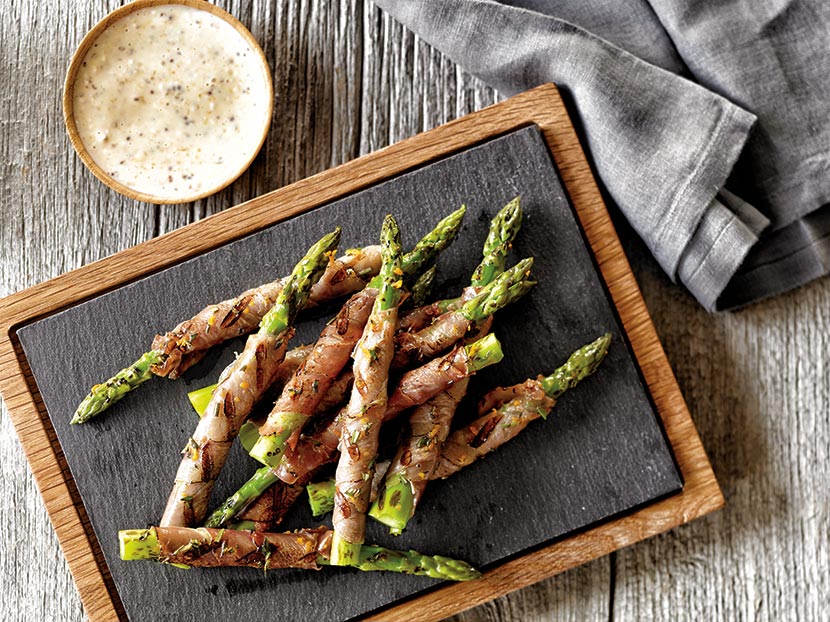 INGREDIENTS
---
16 asparagus, trimmed
1 tbsp olive oil
1 tsp orange zest
1 tsp finely chopped rosemary
1 tsp finely chopped thyme
8 slices prosciutto
3 tbsp mayonnaise
1 tbsp orange juice
1 tbsp grainy mustard
1 tbsp prepared horseradish
PREPARE
---
1. On a platter, combine asparagus, oil, zest, rosemary and thyme, tossing to coat thoroughly.
2. Halve prosciutto slices lengthwise, wrapping each spear with 1/2 a slice.
3. Barbecue on high for 6-8 minutes until tender crisp.
4. In a small bowl, whisk together mayo, orange juice, mustard and horseradish.
5. Serve with grilled asparagus.
Click here to subscribe to our monthly E-blast list!