Apple Cider Glazed Pork Chops –
recip
E-blast
One of the best things of fall harvest is fresh pressed apple cider from super sweet end of season apples. The sweet and sour cider glaze pairs beautifully with savoury pan seared pork chops. Serve with rice or pasta and sautéed garlic greens.
Makes 2 servings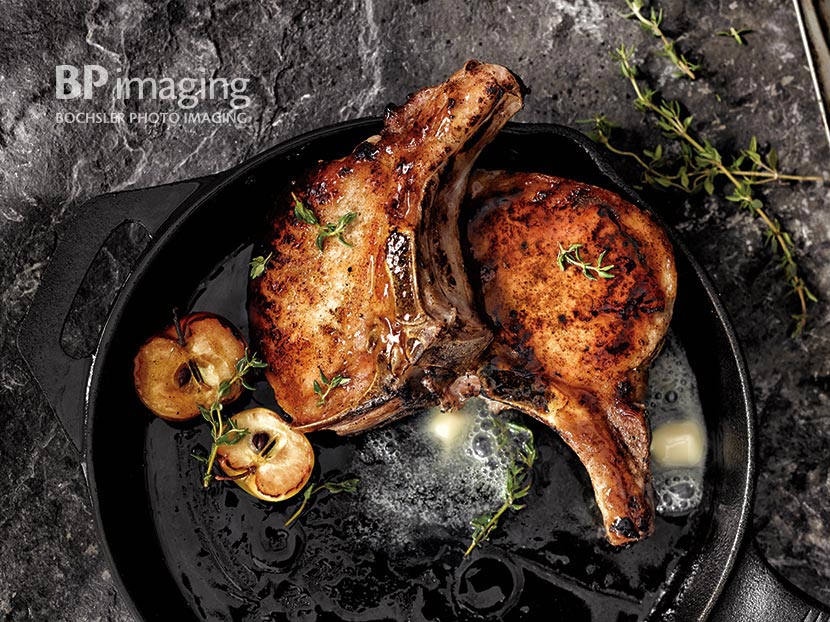 INGREDIENTS
---
2 (1/2 inch thick) pork chops
2 juniper berries, finely minced
2 tbsp chopped fresh thyme
2 cups apple cider
2 small apples, halved or 1 medium quartered
1 tsp olive oil
1 tbsp butter
1/2 tsp poultry seasoning
1/4 tsp each salt and pepper
PREPARE
---
1. Season chops with oil, poultry seasoning, salt and pepper and juniper berries.
2. Sear in a cast iron or heavy bottomed pan over high heat for 5 minutes on each side. Remove to a plate.
3. In same pan quickly sauté apples and thyme to light golden and add to pork chops.
4. Pour cider into pan and reduce liquid to a syrup.
5. Add pork chops, apples and thyme and simmer until pork chops are cooked through and liquid has glazed chops.
6. Finish with butter and serve.
Click here to subscribe to our monthly E-blast list!