Saffron Mussel Corn Chowder –
recip
E-blast
Enjoy this fragrant belly warming chowder with fresh torn pieces of crusty French baguette.
Makes 6 servings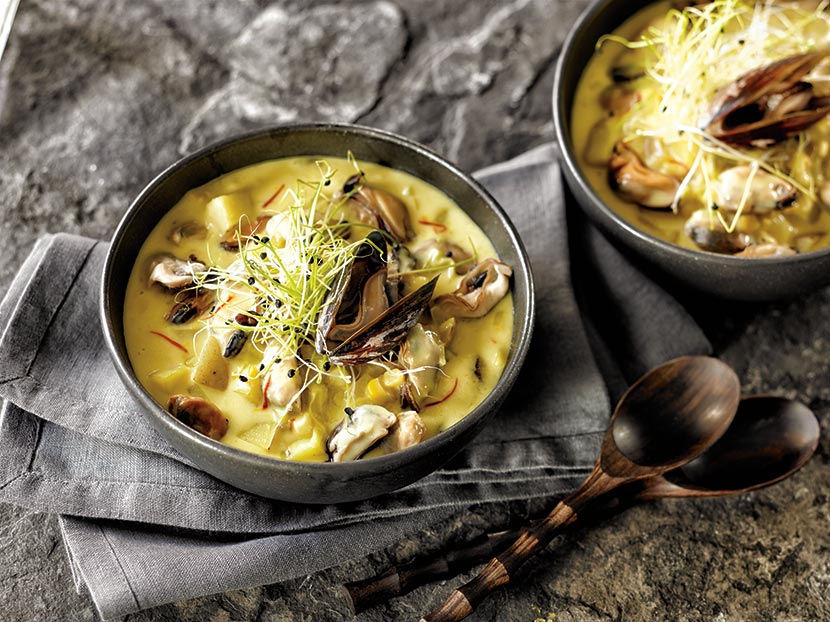 INGREDIENTS
---
2 kg live mussels, scrubbed
1 cup dry white wine
2 tbsp butter
1 cup sliced leek, white only
1 cup diced fennel bulb
1 clove garlic, minced
1/4 tsp saffron
2 tbsp flour
1 cup cream
2 cups corn
2 cups peeled diced potato
Salt and pepper to taste
Onion sprouts for garnish
PREPARE
---
1. In a large pot over high heat, steam mussels with white wine until just opened. Strain mussels reserving liquid. Remove mussels from shells discarding any that have not opened. Save 6 mussels in shell for garnish. Set aside.
2. In same pot sauté leek, fennel, garlic and saffron in butter for 2 minutes over medium high heat until softened. Stir in flour, cooking for 1 minute.
3. Whisk in reserved cooking liquid and cream. Add corn and potatoes; reduce to simmer and cook until potatoes are fork tender.
4. Stir in mussels just before serving. Season with salt and pepper to taste and garnish each bowl with 1 mussel in shell and onion sprouts.
Click here to subscribe to our monthly E-blast list!