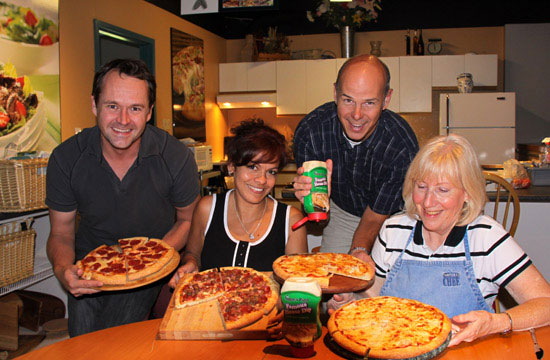 So why should the kids only get pizza days? Last week I got to be a big kid again and had a pizza day of my own!
Thanks to our friends Stacy and Emaan over at Toppers Pizza we had a fantastic day of great smells and great Pizza Photography. Toppers Pizza needed some new shots for their flyers so in they came and together with food stylist Sue Baily we got some amazing shots. Nothing like the smell of pizza filling the studio, brings me back to the day's when I could enjoy pizza, but these days now being one of those "Lactose Intolerant" fools you hear about it is no cheese for me!
It was a beautiful day out and we decided to use natural lighting in our daylight studio. The exposures were about 5 seconds, which worked great since pizzas don't move. But then it came down to the famous Pizza Pull shot. When we placed the pizza down over the lifter, the cheese, well it just kept flowing. Take a look at the results; I think it looks like the piece is actually being lifted! Great luck, *cough* I mean skill on that one. Hope you enjoy. As always let us know what you think. We always love to hear from you.