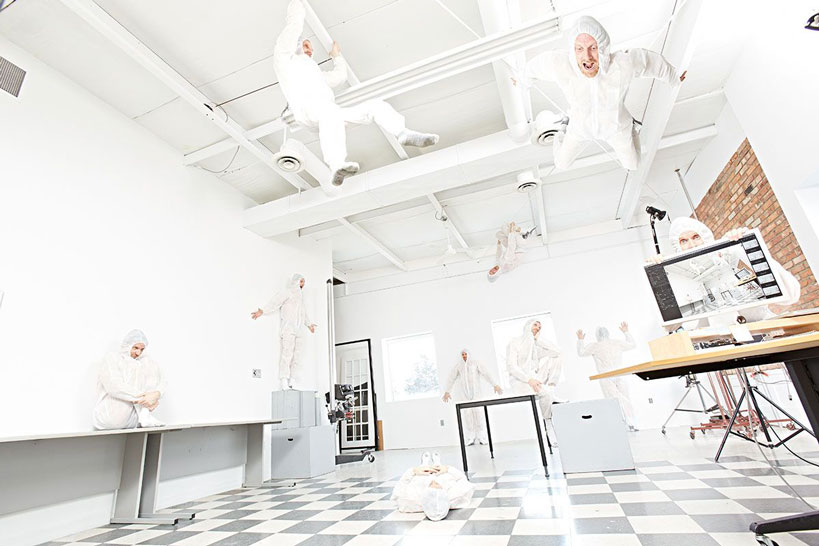 While our photographer John Majorossy might look like he is in need of a strait-jacket in this photo, it's really just his excitement over our newly painted studio!
We decided back in January to update our studio with a fresh coast of paint. We wanted to make the studio look more open and less industrial so we can instantly wow clients with our awesome studio before we wow them with our awesome skills. Our hope is to create a more versatile space for a wider range of creative options to offer our clients. The white walls will help with the bounce of natural light to fill in shadows. Also with white, you don't get colour casts in the photos from reflections off the walls or ceiling. The steel beams in the ceiling blend in better and are less noticeable when painted white as well. As you can see, we had to get into every nook and cranny to paint!
But not only do we have a great looking studio, we have tons of other features to offer clients both new and returning. With over 10,000 square feet of studio space, BP Imaging's custom-built studio offers one of the largest and best equipped facilities in Southern Ontario, offering not only our newly painted daylight studio but also: a drive-in cove, 24" ceiling height, 9' x 24' controllable overhead soft box, free convenient parking, full kitchen, and loading dock. Areas of photographic expertise include: food, product, lifestyle, portrait, architectural, automotive, industrial and aerial photography. The studio is located just off the QEW highway on the Burlington-Oakville border and easily serves Toronto, Mississauga to the east and Hamilton and Niagara to the west.
We can't wait to share our freshly updated studio with you! If you think BP Imaging is the right fit for your photography project, please contact us! We would love to discuss your project and make it happen for you. Our photographers will work closely with you to ensure you get exactly what you need. Not only does BP Imaging offer great photography services, we will also book models, set design and build, source props, find locations or quickly turnaround files; BP Imaging will look after all the details for you. Contact us today to get started!