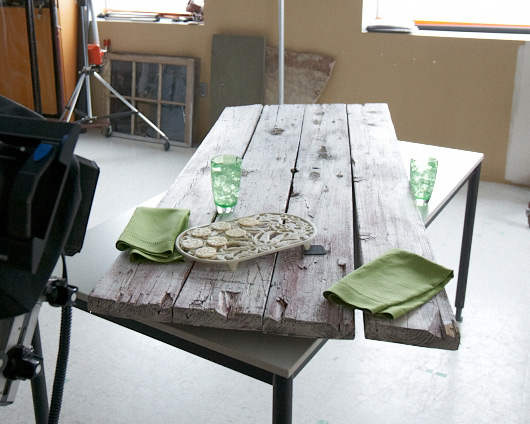 While there are a ton of awesome backdrops for sale out there, they can often be pricey for budding photographers. But there's no reason for your pocket book to dictate your creativity level. Get the look you want in your photos for less by using things around the office as a backdrop instead.
For a lot of our studio food photography at BP imaging, we use a more rustic theme. Some of them are old skids that have been taken apart and painted or we give old items a new life by turning items from the Reuse Centre or Habitat for Humanity into an interesting backdrop. If we need a larger set, we will build a backdrop with sheets and paint to get exactly what we are looking for. Thrift stores like Goodwill and the Salvation Army are also great places to search for backdrops. Even if you don't have a specific item in mind, the variety of things these stores offer is a great way to find inspiration.
We have compiled a list of unique and creative backdrops which are easy to use, look great, and as an added bonus, are completely customizable to what you or your client wants.
Shower curtains – Light, portable, and available in a variety of shades and textures.
Large towels (such as beach towels)
Tablecloths, blankets (the bigger the better), quilts, sheets, fabric, curtains, upholstery, rugs, drop cloth, etc – For extra points, splatter some paint onto your drop cloth for an individualized backdrop.
Wood panelling, plywood sheets, tile board, wall panelling from a hardware store (you can jazz these up with some paint!)
Christmas lights – When shooting a shallow depth of field, twinkling lights can provide a jazzed up look to portraits or products.
Antique or painted doors or window frames
Bubble wrap tacked to a board, aluminium foil glued to a board
Old newspapers, wrapping paper, scrapbook paper, butcher paper, paper drawer liner
Bamboo shades, wooden blinds
Mirrors
Old display boards and signage from department stores/retail stores
Seamless paper + added recycled party decorations
Garage floor – Who says you have to shoot your subject straight on.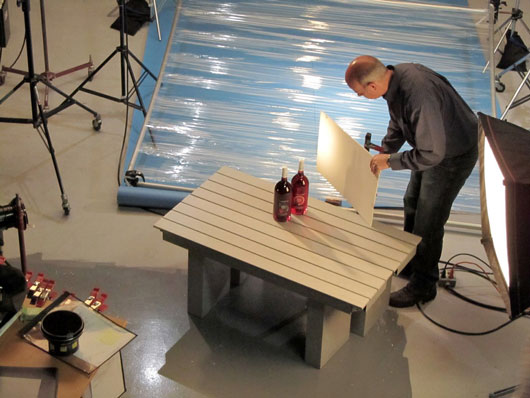 The sky is really the limit with backdrops. You can more or less substitute anything under the sun for a backdrop, and your wallet will thank you. But remember, a backdrop is just that – the BACK of the photo. Make sure your unique background doesn't take away from the importance of your subject. No one wants to be upstaged by the background – don't turn your subjects into wall flowers!