High Quality Photography
The high quality photography that commercial photographers bring to their clients using professional camera equipment, software and the knowledge to effectively use these tools is beyond what any amateur photographer can accomplish using a point and shoot camera. The images speak for themselves and every business seeking effective promotional material need high quality photographs to show off their strengths and high standards for perfection. Make a good first impression to potential clients and use high quality images in your marketing material, why take the risk of using sub standard photographs?
Below are two examples of comparisons between using an iPhone/mobile device camera versus the professional commercial photography equipment that BP imaging's photographers use. These are environmental portraits that were shot on location with two different backgrounds, the images on the left are both scout shots that were taken prior to the photo shoot to finalize the positioning for the background to be used for the final portraits. The photographs on the right were taken on the day of the shoot of our commercial photographer John Majorossy assisting John Lynch set up the positioning of the executives for their environmental portraits. The difference in detail and quality alone is enormous in addition to the lighting and composition, which make for a fantastic professional portrait. These environmental portraits shot on location are often used to give potential clients/viewers a visual of the company's industry/environment. Whether it be in an office/headquarters, production/manufacturing plant, showroom, farm, restaurant, winery or dental office. BP imaging's team of professional commercial photographers will use their skills, training and experience to give you the highest quality photographs.
Environmental Portrait Background #1
Before (Left) – Using Mobile Phone Camera
After (Right) – Using Professional Photography Equipment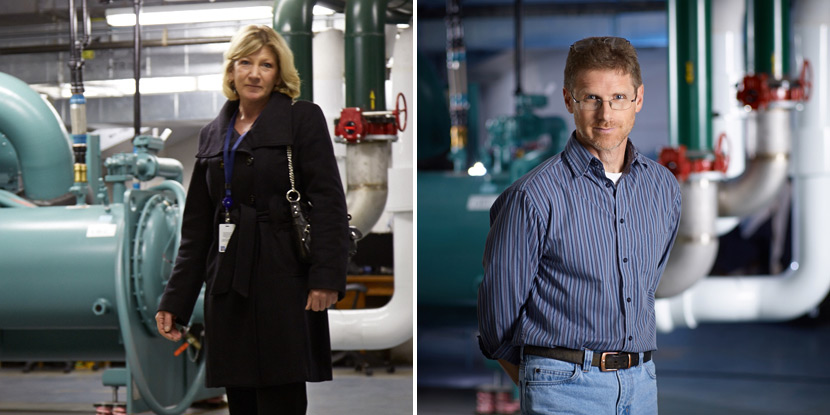 Environmental Portrait Background #2
Before (Left) – Using Mobile Phone Camera
After (Right) – Using Professional Photography Equipment

BP imaging has experience photographing various types of portraits so be sure to view our multiple portfolios including Business Portrait Photography (standard head and shoulder photographs with a chosen background for company teams), Environmental Portrait Photography (natural backgrounds company's location of choice) and Group Portrait Photography (perfect way to display your company/corporate team in a professional manner on location).