In the summer of 2013, the BP imaging team of photographers, John Lynch and John Majorossy, participated in product, vehicle, lifestyle portrait photography for Alo to use on their websites and brochures. Alo manufactures front end loaders worldwide in over 40 countries and is one of the leaders in the world, producing approximately 33,000 loaders per year. Alo provides the front end loaders under two separate brand names, Quicke and Trima.
The images for the brochure were shot in BP imaging's drive in photography studio and on location in the Niagara region. Our studio is one of the few in Southern Ontario that can accommodate large vehicles like a tractor. On location our photographers had to direct the models and driver of the tractor to set up the proper angle and lighting needed for the shot. In any outdoor photography situation, lighting will always be challenging as it is constantly changing and moving. But in order to have compelling photographs of the front end loader in action, the on-site photography at the farm was essential.

One of the leading benefits of using BP imaging is our multiple areas of specialization, for this photo shoot alone we used four different segments. The lifestyle and portrait photography was done on the farm, photographing the worker and models posing for action shots in their working environment. The product photography was shot in our large studio, shooting beauty shots to help the customer visualize the multiple functions of the tractor and front end loader. The detail shots are important for brochures and marketing purposes to provide a visual "manual" of the product for potential buyers. Finally the vehicle photography was shot both on location and in our studio in Burlington. The photographs of the tractor were taken to display the multiple capabilities and attachments of the front end loader. Whether it is using the scoop or the fork attachment to accomplish any job on the farm including lifting hay bales, moving skids or loading and unloading material.

Both of our photographers used their post photography Photoshop imaging skills to add backgrounds and enhance the sky in some of the pictures. The image below on the left is the original raw photograph of the front end loader being used to move material on the farm. The photograph on the right is the finished product that was used in the Quicke brochure. Our photographer added the majority of the background scene including a luscious green farm field and glowing orange sky. He did a great job at both the photography and the imaging!

Be sure to take a look at some of the sample pages from the final copy of the brochure below. The photography turned out very well and enhanced the overall look of both brochures, you can't beat high quality photographs for marketing materials.
Trima Brochure Sample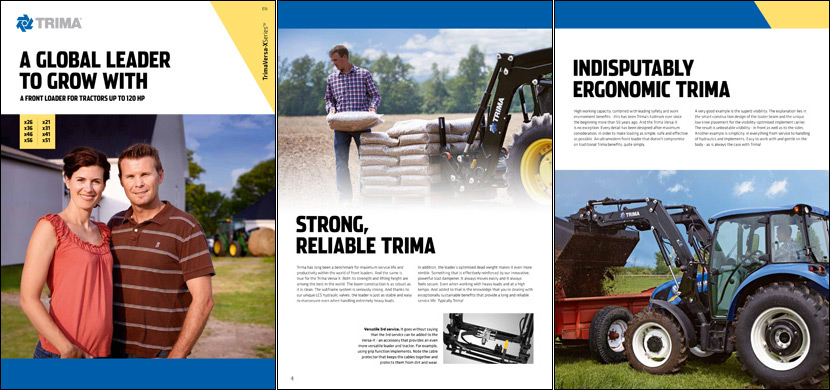 Quicke Brochure Sample