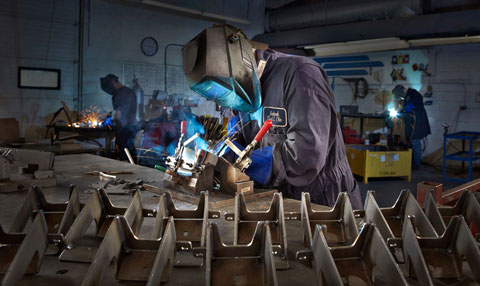 Industrial photography is one of our passions here at BP imaging. It is a fascinating genre of photography. From the photographer's perspective, we get to see how all the things we use in our daily lives are  manufactured. Unfortunately the manufacturing sector in Southern Ontario is not what it used to be, so we do not have as many opportunities to work on industrial projects, as we would like. That is why we were excited to spend two days at Burloak Tool and Die  this past week.
This was a very fulfilling shoot. We were able to take the time needed to compose each shot and ensuring that the lighting was perfect. The guys on the shop floor were very accommodating. Les Rackham, the owner, made sure that we had everything we needed, including creative freedom, to get the images that are going to show Burloak Tool & Die at its very best.
The BP imaging team all helped ensure that the project went off without a hitch. We are very happy how the shots turned out. We hope you will enjoy them. Let us know what you think.
If you are interested in industrial photography, you might want to check Tom Bochsler's book The Art of Industry. Tom is our founder and established our studio's reputation as the premier industrial photography resource in Ontario. More information on Tom's book can be found at: http://www.artofindustry.ca.