Insight From BP imaging Founder Tom Bochsler
Tom's presentation of the images in this blog are timely because of the 70th anniversary of D-Day. It is a personal way of showing recognition and thanks to all military and service personal that make Canada the best place to live.
Tom made trips to France and Belgium including Vimy, Juno Beach, Menin Gate and other War Memorials and Cemeteries saying those trips meant the most to him. Even though he has travelled to Asia and many other countries in Europe over the past 45 years (for professional and personal reasons). It illustrates the respect that many citizens there still show for the efforts of the Canadian troops that gave us our freedom.
Throughout the 60 plus years of Tom's professional photographic career, he has captured many aspects of work, life and culture throughout Canada and beyond. He founded his studio in 1956 which is still in business today. Located in Burlington, Ontario, Bochsler Photo Imaging is one of the leading photography studios in Canada today specializing in commercial photography.
A selection of Tom's photography can be seen in his published book "The Art of Industry", which covers over 50 years of his work in news, commercial, and industrial photography.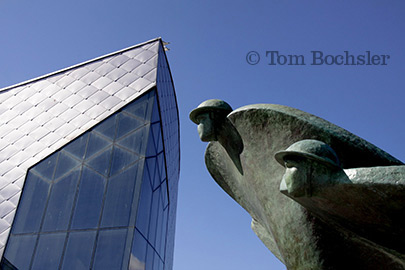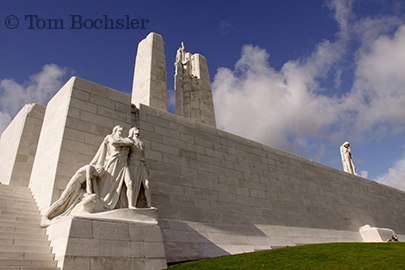 "What D-Day Means to Burlington"
Article by The Burlington Post "What D-Day means to Burlington"
[This Month] (June 6) marks the 70th anniversary of D-Day, the Allied invasion of the beaches of Normandy, France — the largest seaborne invasion in history.

Nearly 360 Canadians died storming Juno Beach on that day, while 5,020 gave their lives in the two-and-a-half month campaign that followed the initial invasion. A total of 42,000 Canadians were killed during the Second World War.

At the 50th anniversary of D-Day in 1994, Burlington's Garth Webb — himself a D-Day veteran as a member of the Canadian 14th Field Artillery — had the idea of creating a centre in France devoted to telling the story of Canada's role on this historic date and throughout the Second World War.

A nine-year effort by Webb and his partner Lise Cooper resulted in the Juno Beach Centre being officially opened at Courseulles-sur-Mer, France on June 6, 2003.

Mr. Webb passed away in May 2012. As a tribute to him and to all of Canada's D-Day veterans, the Post invited readers to share their Burlington-specific stories of D-Day.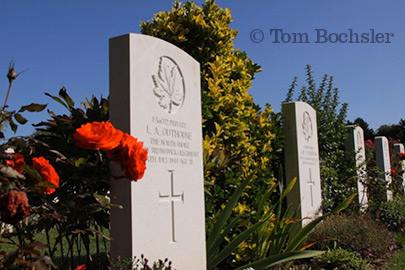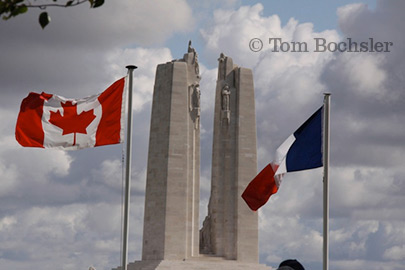 Tom Bochsler's contribution to the article:
My D-Day memories are highlighted by being at Juno Beach at the opening of the Juno Beach Canadian Memorial Centre on June 6, 2003. When architect Brian Chamberlain of Burlington brought the scale model of the new Juno Beach Centre to our studio [BP imaging] for photography, I was immediately interested in being at the official opening. My contacts with Garth Webb, the driving force behind the project, were memorable. He and partner Lise Cooper dedicated many years to the fruition of this memorial to Canadians in the Second World War.
I, along with my wife Doreen and daughters Cindy and Marianne attended the opening to absorb the emotional and memorable dedication. As official photographer, I had freedom of movement throughout the ceremony to record the opening ceremonies.
Seeing 42,000 poppies drift down upon us from a military helicopter was a final touch of class to recognize appreciation to all our Canadian veterans.