'Unidentified Worker' No More – In Response to "The Art of Tom Bochsler"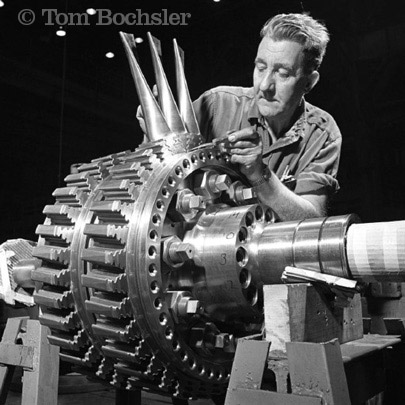 You may remember our last blog The Art of Tom Bochsler on the Cover of The Hamilton Spectator that went over the variety of commercial photography and industrial photography shot by Tom Bochsler. One of the images (shown on the right) stated "An unidentified worker at Westinghouse in 1968." On August 12th, there was a letter submission to The Hamilton Spectator:
"The unidentified worker in the front-page photo of your Aug. 8 edition was, in fact, Steve Roberts, my father. He was photographed by Tom Bochsler around 1964, about 50 years ago when my father worked as a "fitter" at the Westinghouse plant.
Unfortunately, he died suddenly in 1965, not long after this photo was taken. His wife, Ellen Roberts, my mother, is still alive, and at the age of 97 and with failing eye sight, she was delighted to see the picture of her husband gracing the front page of the paper.
I was reminiscing with my mother yesterday about my father and his loss can still bring a tear to her eye. When she studied that front page with her magnifying glass, she was all smiles."
― Bill Roberts, Cambridge