Professional Motorcycle Photography & Car Photography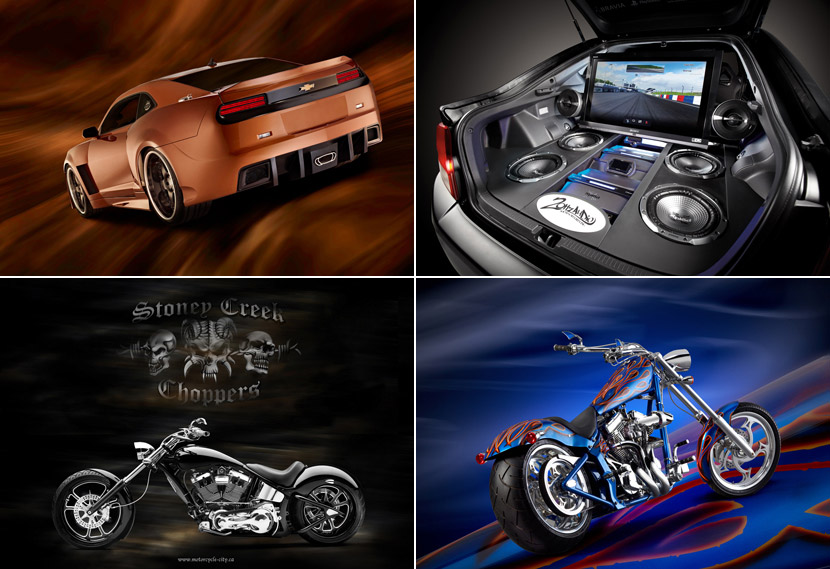 With over 20 years of experience in motorcycle photography & car photography, BP imaging will capture high quality images of your beloved vehicle. Our car photography ranges from exotic, luxury and classic cars to muscle and sport cars. With a large scale photography studio located in Southern Ontario there is no limit on what we can shoot. Our motorcycle photography categories range from custom choppers and sport bikes to vintage motorcycles. The vehicle photography is shot in our photography facility under a 240 square foot light box which helps even out the lighting on high gloss paint finishes and highlights the curvature of your vehicle. The combination of our large light box and professional high resolution cameras allow our photographers to take exceptional motorcycle & car photography.
Bochsler Photo Imaging's experience with car photography has cemented trust from large web and magazine companies such as Performance Auto & Sound. Photography including interior, exterior and detailed beauty shots to suit your needs and display your vehicle properly. BP imaging can do it all, ranging from new technology (such as an audio/visual system), new upholstery, new exterior customization, a fresh coating of paint, or simply a hobbyist looking for high quality detailed photographs of their prized possession. Our car photographers can supply photographs of your car with a variety of backgrounds ranging from a classic studio background to a custom background depending on the your demands.

A Variety of Vehicle Photography
Cars & Trucks
•Exotic & Luxury Cars – Display your exotic car with the same high quality in which it was built (Ferrari, Aston Martin, Porsche, Lamborghini, Maserati, etc.)
•Classic Cars – Track your restoration projects over time with professional images to showcase your hard work
•Muscle Cars – Capture the aggressive appearance of your muscle car and its V8 power (Ford Shelby Mustang, Chevrolet Camaro & Chevelle, Dodge Charger & Challenger, etc.)
•Sports Cars – Let our photographers photograph the sleek styling and craftsmanship of your original or customized sports car (Chevrolet Corvette, BMW, Mercedes Benz, Audi, etc.)
•SUV's & Pickup Trucks – Whether a luxurious SUV or an off road truck, BP imaging will portray an accurate image of your vehicle.
Motorcycles
•Choppers & Sport Bikes – Custom motorcycles are very unique and built specific to the customers demands, display the detail and craftsmanships of your investment with professional photography (Harley-Davidson, Indian, Triumph, Honda, Yamaha, Kawasaki, Ducati, etc.)
•Vintage – Ensure your hard work and dedication are shown in your restoration projects using professional images to create a project timeline
Other Vehicles
•With a drive-in studio BP imaging has the capability to photograph a range of vehicles including tractors, boats, ATV's, dirt bikes, machines, farm equipment and more!

Take a look at BP imaging's car photography ("Interior & Exterior Studio Car Photography") and motorcycle photography ("Studio Motorcycle Photography") slideshows below (make sure you switch the quality to 1080p). Be sure to visit our past blog on some of our other areas of specialization Aerial Photography and Interior & Exterior Architectural Photography!

Interior & Exterior Studio Car Photography
Studio Motorcycle Photography